How to Choose a Lehenga for Your Wedding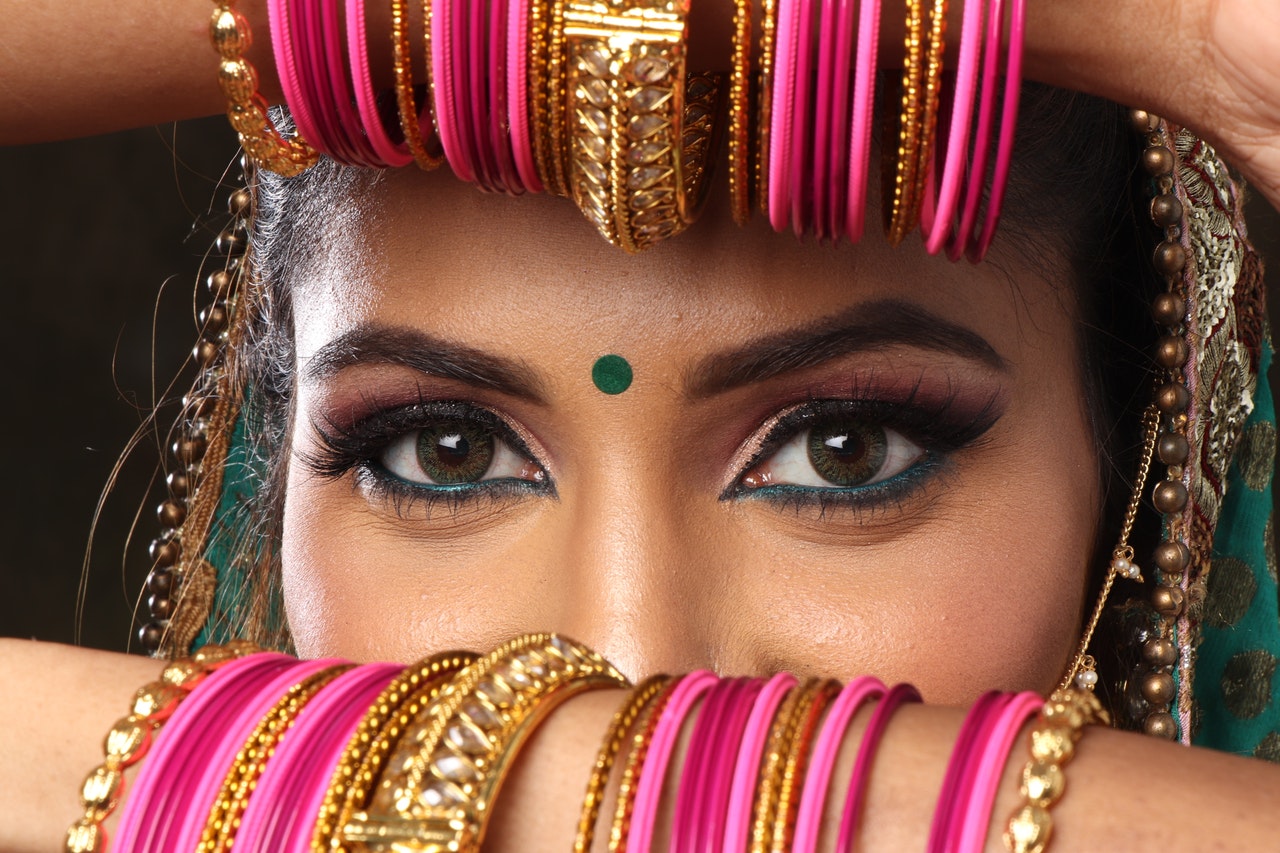 Every girl dreams of looking the most beautiful diva on her Special Day and she spends lots of money on that but why not spend it wisely?
If you are also a bride-to-be and you are searching for a Wedding lehenga for your wedding that will knock your husband's socks off and stun the crowd, you have reached the right place. As sometimes a little mistake spoils your dream, it is very important that you take special care of certain things while buying your lehenga. Let's get through that with this article.
Your Body Shape & Color Matters More than Your Choice
While choosing the Lehenga, you have to be very careful about your height, skin color, and body structure. Because many lehengas look beautiful only by their sight but after wearing them, they don't look considerable.
Wedding Lehenga According to Body Shape
Your lehenga must be according to your body shape. Most of the brides do this mistake. If a lehenga is looking awesome on an actress or someone else, that doesn't mean it will look same on you. It may look better or worst also. So, here are some points which you must consider while buying a bridal lehenga-
#1 Wedding Lehenga for Hourglass or X Shaped Body
If you have a body type of hourglass or X shape, you should be really happy as most of the things will look good on you. You can pull off any lehenga design with this shape.
However, you can choose A-line skirt in some fluid material such as velvet, chiffon, georgette etc. Wear a short choli that shows your waste. Drape a zardozi work dupatta without hiding your waste and you are ready to stun everyone! Look at this gorgeous lehenga by Vasansi Jaipur which is specially crafted for hourglass or X shaped Body!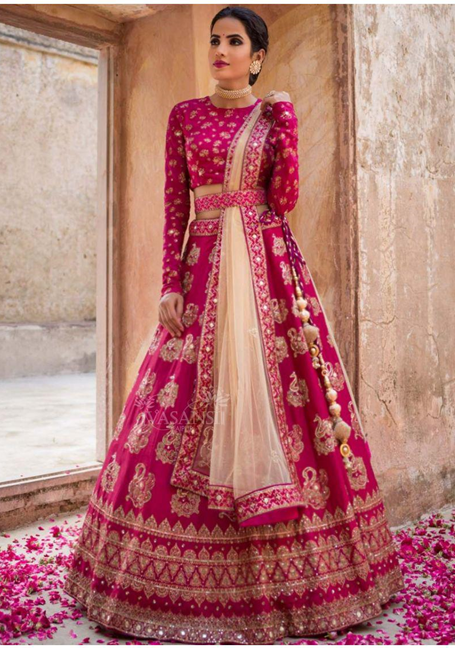 #2 Rectangular Body Wedding Lehenga
If you have a rectangular body, you may have got an athletic body without any curves. So, your lehenga should be like it itself create curves for you. Select a wide, full skirt lehenga with heavy embroidery. Make it flare and user stiff fabric as it will add more volume to your bottom. Raw silk is a good option. Also, while draping dupatta, remember to take a loose and fluid fabric.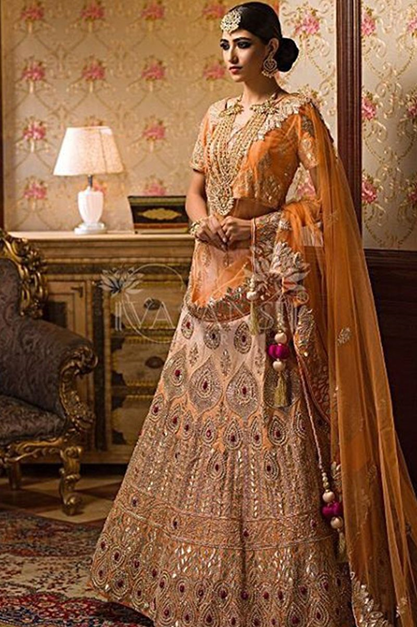 #3 Wedding Lehenga for Pear Shaped Body
A pear Shaped Body is a type of body where the bottom is heavy whereas the chest is flat. Now, your lower body needs to look proportional to the top half also. Now, remember that your lehenga doesn't have too much work. Avoid fish tale lehengas and also, the stiffed fabrics.
Keep a plain and flowy lehenga and don't buy the lehenga with lots of flares.
Wear a padded blouse with deep neck or padded blouse with the network, even off shoulders are also a good option for you.
Don't take a dupatta that has lots of flares at the end as it will make your bottom look heavier.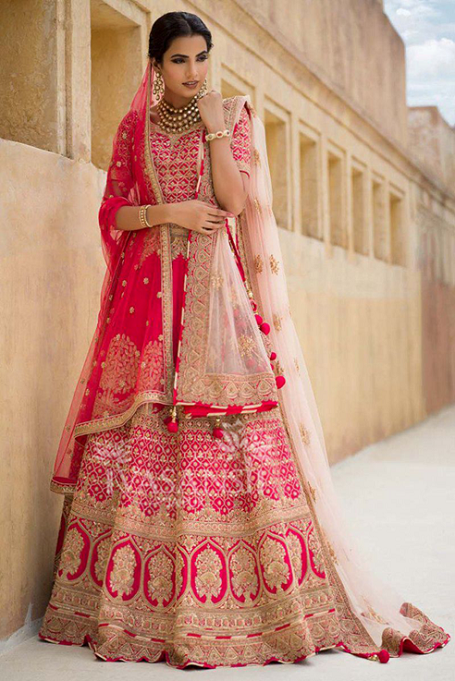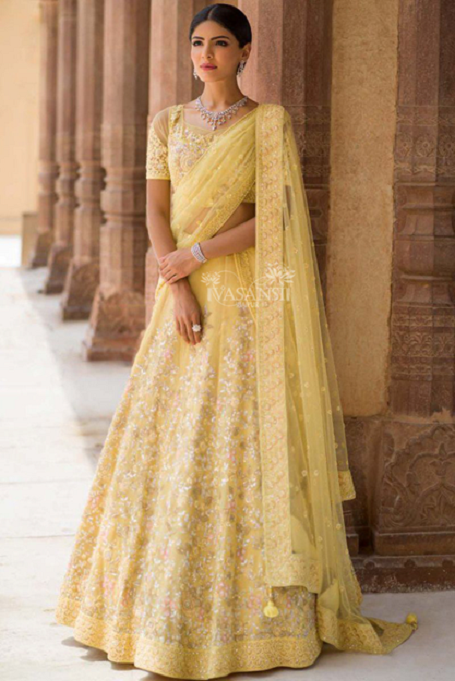 #4 Apple Shaped Body
If you got a body of an apple shape, you got a heavy chest and light lower body. The first solution for this shape is layering. Layered Lehenga will be best for you as it will match your shape with your upper body. Flared lehenga or jacket lehenga are the best options for your body type. Avoid fabrics like tissue or brocade as they will make your body look flat.
Also, avoid deep neck, off shoulder or sleeveless blouse as it will make your upper body look heavier.
Take your dupatta around your elbows, do not wrap it around your neck or bust.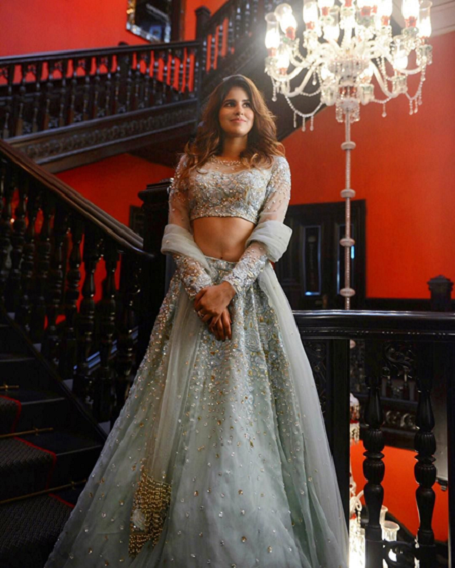 #5 O shaped Body
The O shaped body got evenly distributed weight overall the body. Your waste and tummy might be a little chubby. The fluid fabric lehenga with a little long blouse which shows a little belly will be the best choice for you. Just show a little peak area below the bust.
Here, you are free to carry dupatta as you want. You cover up any body part you want from bust to tummy.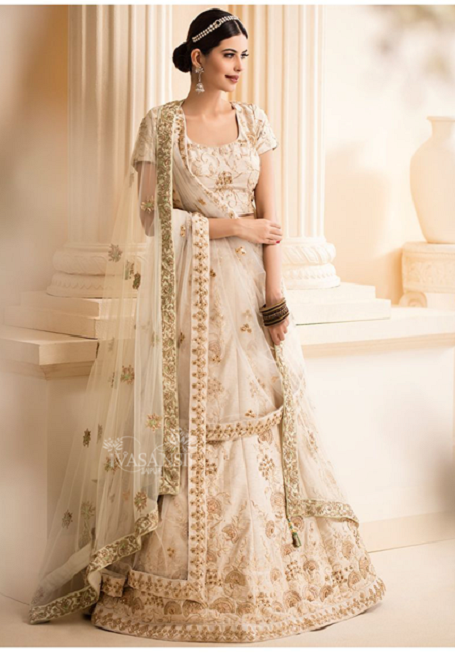 Choose Your Wedding Lehenga According to Skin color
Colors are really important to consider when you searching for your dream lehenga. They matter very much as the most beautiful lehenga according to your shape can go wrong with you if you have not picked it according to your color.
Every color is beautiful, you just need to match it up with your wedding dress ad you would have the bomb entry in the event. We have given here some options as well.
#1 Wedding Lehenga for Fair Color
No problem with you girls, you can any color. Soft Pastel, Pink, Peach or Light Soft Green Color will suit you more. If you want to wear maroon or red Lehenga, it will also be a great choice, you just need to care about your shape only.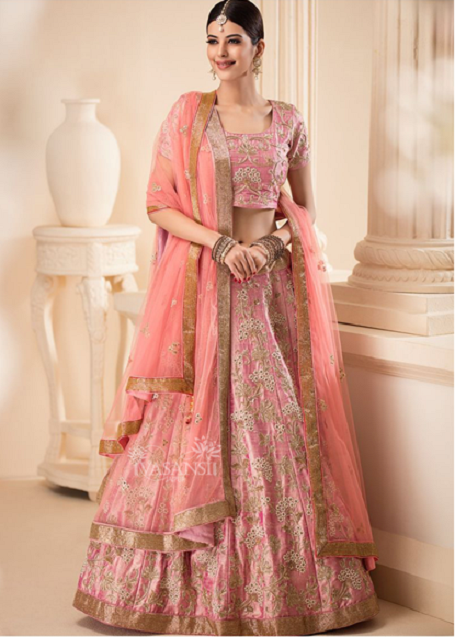 #2 Lehenga for Wheat Color Girls
Ruby Red, Navy Blue, Orange Rust, Golden, Royal Blue, and Silver colors will go quite well on girls of wheat color. Genelia Deshmukh is the best example for wheat skin color girls. You just need to choose a warm and earthier color. Pastel color is not for you. It will show you darker. So, avoid it. Here are the options-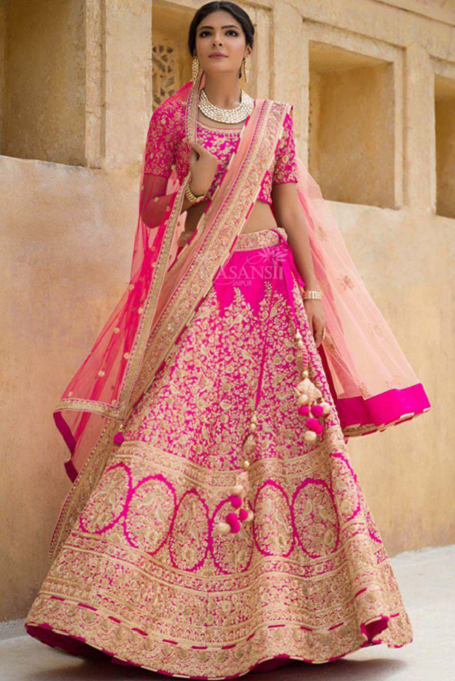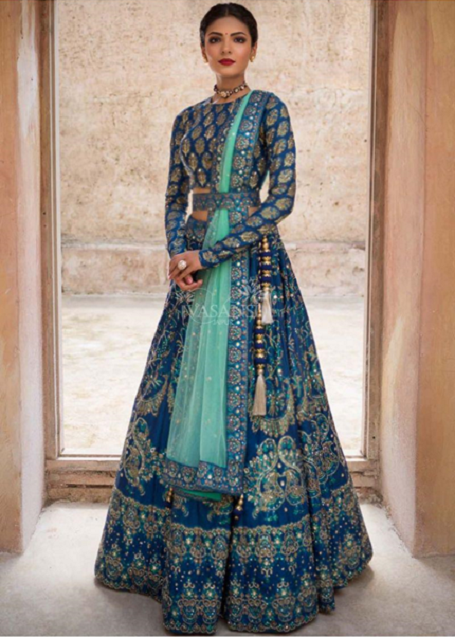 #3 Dusky Girls Wedding Lehenga

Most of the Indian women are blessed with dusky colors. Don't ever think that it is the reason to worry. You may have noticed that most of the red carpet actress were also of the same color this year. Dusky girls are always considered as sexy and they can stand out the crowd with the right match.
Pastel pink, mint green, burnt orange, peach, and emerald green will be the noticeable color on your wedding day.  Avoid colors like maroon, wine etc. Here are some options for you.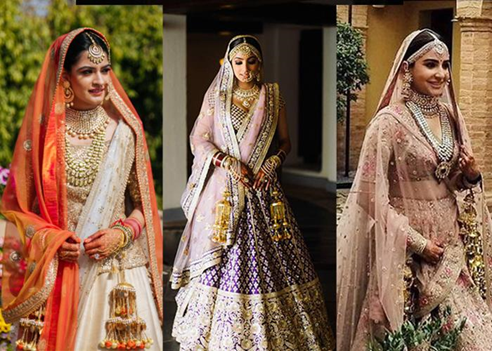 Few tips to Remember While Purchasing Lehenga for your D-day-
1. Don't buy so heavy lehenga that you can not handle. Choose your lehenga according to your weight which seems light to you. Remember that you have to sit for hours in that dress.
2. In order to choose a wedding lehenga, you also have to pay attention to the stitching of your blouse. Actually, the size of your body changes after the marriage. Keep a little space inside your blouse so that you can wear it afterwards as well.
3. Always buy a high-quality fabric for your wedding lehenga as it can be so uneasy to wear it at your wedding. Buy soft and smooth fabric as some clothes cause irritations and rashes also.
4. Wear correct lingerie with your lehenga, it is also an important thing to consider at the time of the wedding. We have given our best advice to you for choosing lehenga for your wedding. However, if you have any query regarding this, you can freely ask it in the comment section below. Also, put your wise suggestion for buying bridal lehenga so that others can get help with that.
Wish you the Happiest Life all the Brides-to-be!!!